Learn more about Ugo Colombo THE COLLECTION owner: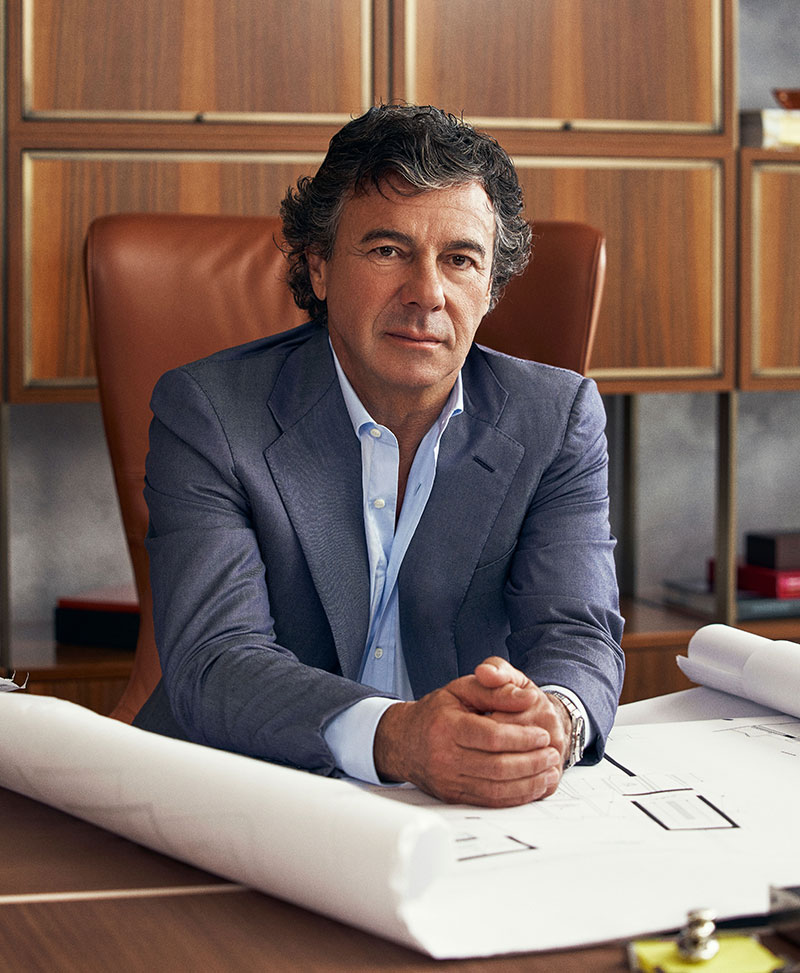 Ugo Colombo has played a pioneering role in the development of Miami's skyline. He is widely regarded as one of South Florida's most respected and successful residential and commercial developers. Born in 1961 in Milan, Italy, Mr. Colombo came to the United States in 1983. His real estate career began while he was studying at the University of Miami. After acquiring and selling the inventory in two Brickell Avenue buildings – the Imperial and Villa Regina Condominium, Mr. Colombo and his company, CMC Group, focused on the design and construction of high-rise luxury condominium buildings across Miami.
Mr. Colombo's commitment to timeless style, breathtaking luxury and meticulous detail has been a constant in the sea of change that has come to define Miami real estate over the past three decades. In 1993, he and his firm, CMC Group, began building Bristol Tower on Brickell Avenue, the condo that ignited the luxury residential boom in Miami. Bristol Tower's success was followed by the launch of Santa Maria in 1996, the 52-story tower whose 'mansions in the sky' reshaped the Brickell skyline and put the district on the map as one of the world's top-tier luxury markets. He also played a significant role in the rejuvenation of Miami Beach's South Beach community by redeveloping two of Ocean Drive's most important Art Deco hotels: The Waldorf and Casa Grande.
Since then, Mr. Colombo and CMC Group have focused on developing only a handful of successful condominium developments – Porto Vita in Aventura, Grovenor House in Coconut Grove, EPIC Hotel & Residences in Downtown Miami, Beach House 8 in Miami Beach, and most recently, Brickell Flatiron in Miami's Brickell Financial District – all of which have retained their value and are considered some of the most sought-after buildings in the market, even today.
Mr. Colombo's current residential developments include Onda Residences, a 41-residence luxury condominium now underway in the exclusive waterfront community of Bay Harbor Islands; and Vita at Grove Isle, an ultra-luxury condominium in Miami's Grove Isle, a 20-acre gated private island situated just offshore of the city's Coconut Grove neighborhood.
On the commercial front, Mr. Colombo acquired The Collection, a seven-franchise luxury automotive dealership (Jaguar, Porsche, Ferrari, Maserati, Aston Martin, Audi and McLaren) in 1994. The Collection is ranked as one of the top-performing luxury car dealerships in the United States. In 2002, CMC Group completed a 750,000-square-foot mixed-use office/retail development in Coral Gables to house The Collection and third-party office and retail tenants. In addition to The Collection, 4000 Ponce offers 150,000 square feet of Class A office space and 32,000 square feet of ground-level retail space.
Most recently, in 2019, CMC Group completed a new stand-alone Ferrari dealership on Biscayne Boulevard on the ground floor of a Mid-Century Modern former bank building the firm meticulously renovated as the new home for its corporate headquarters. In 2020, the firm also completed a multi-story expansion for The Collection in Coral Gables, encompassing a new 500,000 square foot Jaguar Land Rover dealership in an eight-story neo-Mediterranean building on US-1.
Learn more about Ugo Colombo's THE COLLECTION.