The Jaguar Performance Driving Academy Comes to Miami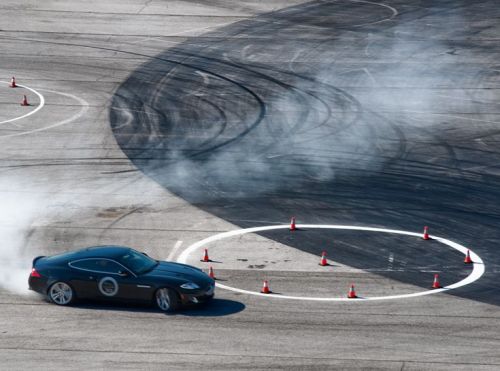 The Jaguar Performance Driving Academy will be at the Homestead-Miami Speedway between December 10th and December 14th. All current Jaguar owners are invited to participate in this event where drivers can expect to tap into the full performance potential of a Jaguar in a controlled, yet thrilling, track environment.
Three course levels will be offered. Level 1 is complimentary to U.S. Jaguar owners who have purchased a new XFR, XFR-S, XKR (Coupe or Convertible), XKR-S (Coupe or Convertible), XKR-S GT, XJR, XJ Supersport, XJL Supersport, XJL Ultimate or F-TYPE R Coupe within the past 12 months. Level 1 is also available on a fee basis to all U.S. or Canadian licensed drivers age 21 and over who want to experience the exhilaration of Jaguar performance.
Participation in Levels 2 and 3 are designed for those who have already completed Level 1. Your spot in Levels 2 and 3 can also be secured for a fee. Jaguar includes the cars, instructors, track amenities and safety equipment (including helmets), and an evening reception in return for this fee.
Below are the dates and levels for the Jaguar Performance Driving Academy at Homestead Miami Speedway:
Level 1: December 10th and 12th
Level 2: December 11th and 13th
Level 3: December 14th
Aside from sheer pleasure, the Jaguar Performance Driving Academy sets its sights to transform Jaguar owners into more confident drivers. Those in attendance will learn the skills to respond more appropriately to unexpected real-world driving situations. This event is equally enjoyable and educational.
To RSVP for the Jaguar Performance Academy, visit https://www.rsvpjaguar.com/academy/welcome.aspx?_ga=1.121521160.1206232113.1418056100. For further assistance, call the Jaguar Performance Driving Academy Concierge at (866) 513-7200 or visit http://www.jaguarusa.com/news-and-events/jaguar-performance-driving-academy/overview.html
THE COLLECTION encourages all of our Jaguar owners to attend this enlightening and exciting affair available in our very own backyard!