The Collections' Holds First Ever Porsche Scavenger Hunt
Passion….Philanthropy….Porsche!
Porsches seized the streets of Miami this past March for the first ever technology-enabled and social media-driven #PorscheScavengerHunt. They event was co-hosted by Martini Media and Ugo Colombo's The Collection.
The invite-only Porsche Scavenger Hunt included teams of prominent Miami enthusiasts and they competed for a $5,000 donation to their charity of choice. Invitees took the streets in the most notable Porsche vehicles, which included the highly sought-after Macan S, Cayman, Boxster, Targa 4S, Panamera Turbo S , Boxster GTS, 911, and Cayenne Turbo,. Some of Miami's most influential business leaders, journalists and VIPs attended the event including real estate developer Gil Dezer, Haute Living's Hadley Henriette, TheDaisyColumn.com editor Daisy Olivera, Miami.com Editor Fred Gonzalez, Million Dollar Listing's Chad Carroll, Vixen Workout Founder Janet Jones, "The Wordy Girl" Maria Tettamanti, Tara Ink's Nick D'Annunzio and Latin recording artist Fantine.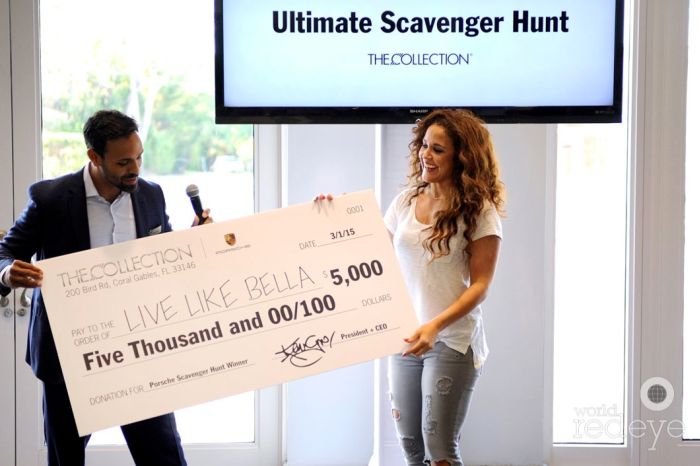 After completing six clues and two bonus clues, the winner of the 2015 Ultimate Porsche Scavenger Hunt was Janet Jones. Jones donated the $5000 winnings to Live Like Bella Foundation whose vision is "to make pediatric cancer a curable and treatable disease."