Ugo Colombo and The Collection Celebrate 2015 Ferrari Challenge
The Ferrari Challenge made its way back to Miami earlier this year – and after a 2 year hiatus. The event was action-packed, from start to finish! THE COLLECTION family and Ferrari enthusiasts came together to enjoy a weekend filled with everything Ferrari.
Ugo Colombo's THE COLLECTION, and Ferrari North America, co-hosted the annual Ferrari Challenge weekend at Homestead Miami Speedway from Friday, March 6th through Sunday, March 8th. Guests and Ferrari owners that attended the events had the opportunity to drive their Ferraris on the track, enjoy Ferrari's world-famous hospitality, enjoy an up close and personal look at the paddock and Challenge garages and enjoy the all-new Fan Zone complete with a new winner's podium, on-site boutique and Ferrari go karts for the kids.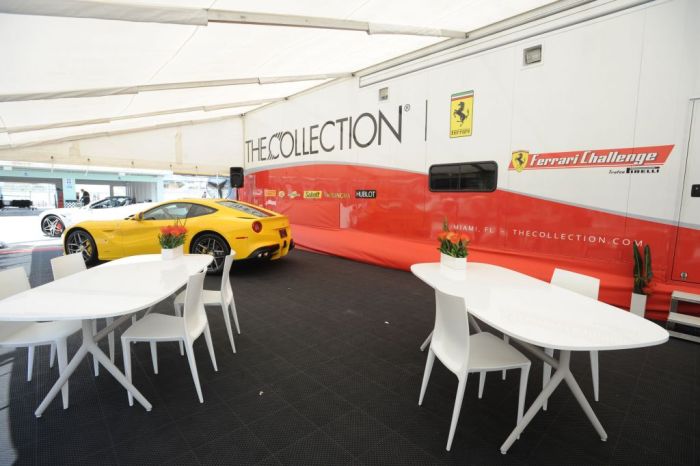 On Saturday, March 7th, THE COLLECTION held their now-famous breakfast and rally. Upon completion of the breakfast, attendees departed on a 70+ Ferrari-only caravan and were escorted by the police. Once the fleet from the rally arrived at the track, the remainder of the day consisted of Dealer Lapping sessions for our devoted clients, as well as the Ferrari Challenge races and unprecedented access to THE COLLECTION's Ferrari Challenge trailer.
Ferrari North America kicked off the weekend with an invitation-only cocktail event at Cipriani Miami Downtown on Friday night. The event served as a launching pad to the weekend's Ferrari Challenge races and event. Guests were treated to an unveiling of the all-new Sergio Ferrari, one of only six in the world. Several VIPs, executives, and celebrities were in attendance, including Ferrari North America's new President and CEO, Edwin Fenech, professional dancer Kym Johnson, and TV star Carson Kressley.
Watch a video about the 2015 Ferrari Challenge event from The Collection below: